Mark Twain
&
Huckleberry Finn
Webquest
As a teenager, what is your Text-to-Self connection with the following quote?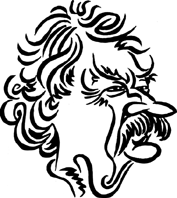 "When I was a boy of fourteen my father was so ignorant I could hardly stand to have the old man around. But when I got to be twenty-one, I was astonished at how much the old man had learned in seven years." :-) -- Mark Twain
Mark Twain was a writer with an interesting life who wrote satirical, or humorous, stories. He wanted to live a life of adventures, but learned that he actually enjoyed living his adventures out through his characters instead! Click on the Link below to find out more information about Mark Twain & The Adventures of Huckleberry Finn in a fun, adventure-filled webquest!
You have two class periods to finish this task...have fun & learn lots!!
Adventure 1 Link - Author Background - Use this link to gather information about Mark Twain, the author of Huck Finn!
Adventure 2 Link - Interesting Author Fact - On Google's website, type in "Mark Twain & Haley's Comet". Find out what the personal connection was between Mark Twain & Haley's Comet & fill in this information on your worksheet!
Adventure 3 Links - Story Elements - Use the following links to answer the questions about the story elements for Huck Finn!
1. Definition of "Satire" - www.dictionary.com - type in 'satire' and write the SECOND definition for it IN YOUR OWN WORDS!!!
2. "Setting of the Story" Article - Read this article to answer the rest of the questions for "Adventure 3" on your worksheet.
Adventure 4 Link - Postcards - FOLLOW THESE DIRECTIONS:
1. Click on the above link.
2. In the white "search" box on the left side of the page, type in: mark twain postcards
3. Click on the first link that comes up & send me a postcard of your choice!! My email address is: kschmaus@d211.org
4.On your postcard, you MUST write what the most interesting thing was that you learned in this webquest and tell me WHY you chose the postcard that you chose!
Adventure 5 - Quotations - Read the quote at the top of this page & answer the Text-to-Self Connection question on your worksheet!
Final Adventure Link - Check what you know at this fun Mark Twain Memory Building Game!! Do this once you are finished...and don't be afraid to use this to review for our test after we read the book!